Rolls-Royce Dawn NJ New York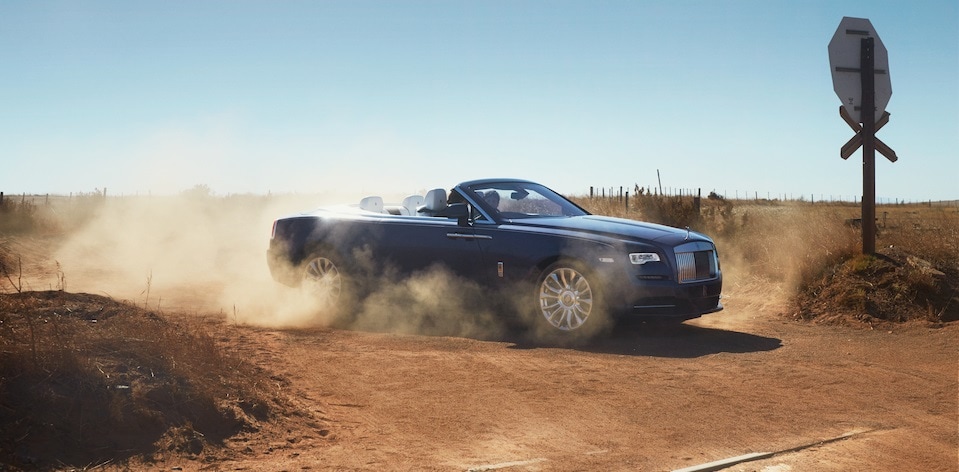 The 2020 Rolls-Royce Dawn
Now At Paul Miller Rolls-Royce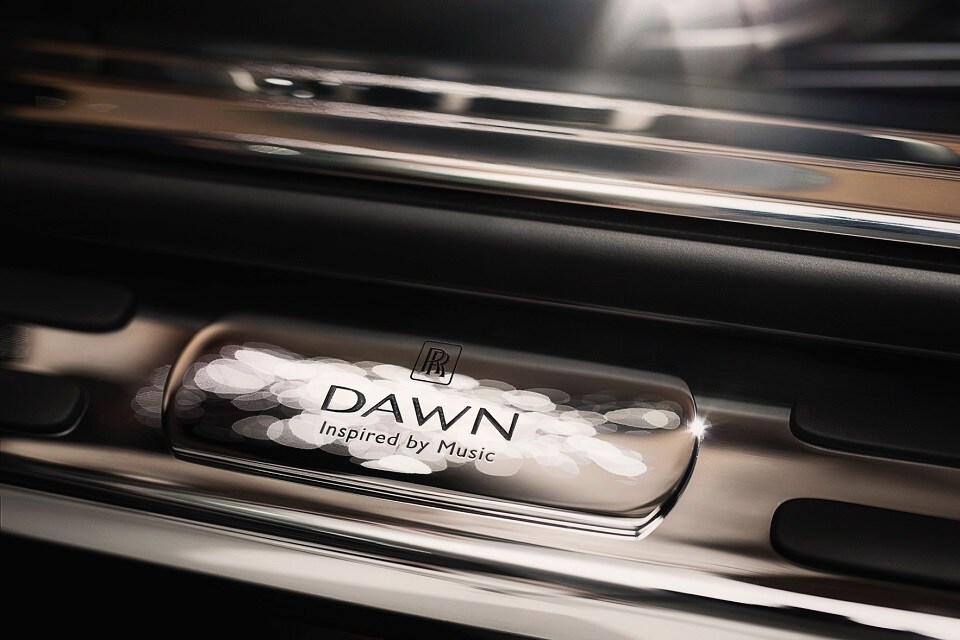 Roll into Town Behind the Wheel of Rolls-Royce Dawn Convertible, and Watch Heads Turn
You know the phrase "green with envy?" Ready to see if envious people really do turn green? Slip inside one of the available 2020 Rolls-Royce Dawn convertible luxury cars we have at Paul Miller Rolls-Royce, and watch heads turn and envy flash everywhere you go.
Throughout New York and New Jersey, drivers who know class and sophistication know Rolls-Royce. A legendary carmaker renowned around the globe for more than a century, every model in the Rolls-Royce lineup, whether it's from decades ago or the latest model year, is a testament to true automotive beauty and high-end refinement. The Dawn models we have in stock offer all the signature Rolls-Royce attributes you're looking for, with the wind-in-your-hair freedom and unbeatable adventurous spirit of a convertible.
Performance and Power at the Touch of Your Hands
The Rolls-Royce pedigree behind every Dawn convertible tells drivers from Bergen County to Middlesex County that they can expect a meticulous attention to detail and craftsmanship in every model. But it's much more than that. It's also a responsive and smooth powerhouse that gets you where you want to go with speed, agility, and pulse-quickening acceleration.
The Rolls-Royce Dawn has a twin-turbocharged 6.6-liter V12 engine under the hood. Not for the faint of heart, the base powerplant delivers 563 horsepower with 575 pound-feet of torque. It's a rear-wheel drive model and comes with an eight-speed automatic transmission standard.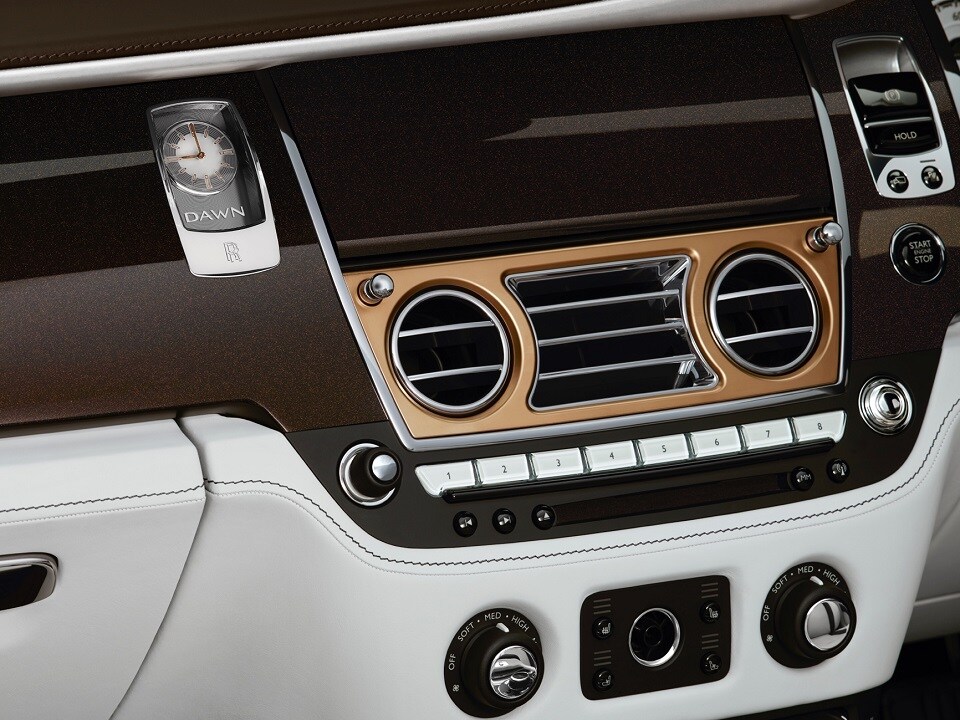 Eye-Catching Exterior, Sumptuous Interior - Explore the Rolls-Royce Dawn Design
The Dawn convertible's heritage as a Rolls-Royce model is evident right from the start. A prominent frontend with signature Rolls-Royce grille and logo catches your attention first, and the strong lines and imposing profile of the rest of the car keeps it. A power-retractable convertible roof is the highlighted feature of the exterior, adding an aura of exhilaration and excitement to your world-class luxury ride.
Stunning wood design elements highlight an interior that's designed with driver and passenger in mind. The finest materials are at your fingertips in this two-door, four-passenger car, and the ride is comfortable and supportive, whether you're staying local in the Morris County area, or venturing further on the open road.
Technology and Safety in Every Model
As an elite, world-renowned Rolls-Royce model, it comes as no surprise that the Dawn convertible has all your needs met for comfort, connectivity, and safety. Intelligent safety features are standard on every Dawn, with a roster that includes:
Active cruise control
Automatic high-beam control
Adaptive headlights with night vision and pedestrian detection
Heads up display for drivers
The Rolls-Royce Dawn takes drivers beyond safety features as well. In addition to the standard Rolls-Royce signature umbrella that's included with every model in its own unique storage compartment, every technology and comfort feature you've ever dreamt about is present and accounted for here, with a standard list that includes:
Ventilated front seats
Lambswool foot mats
Premium leather upholstery
Keyless ignition
Four-zone auto climate control
Air filter
Plus, much more. Rolls-Royce also has a large variety of customization packages available on this car that our expert sales team can tell you more about in Parsippany.
Available Configurations
The new Rolls-Royce Dawn has two incredible trim levels you can choose from. The base model Dawn, and the Dawn Black Badge.
The new Rolls-Royce Dawn gets the standard V12 power train and starts you off with the incredible roster of features and amenities listed here, with a nice menu of available packages available as well.
The new Rolls-Royce Dawn Black Badge, gets the same powerplant as the base model, but with a slight power boost to 593 horsepower and 620 pound-feet of torque. It also receives glossy black design elements throughout the vehicle that help it stand out from the crowd.
Frequently Asked Questions About The Rolls-Royce Dawn
If you've been considering purchasing a new Rolls-Royce Dawn, then you may have some questions. Here at Paul Miller Rolls-Royce, we are asked every question about the Rolls-Royce Dawn. Here are a few answers to some of the most frequently asked questions.
When did the Rolls-Royce Dawn come out?
This full-size luxury convertible was first released in 2015 with models making their arrival for the 2016 model year. It is said to be named after the 1950s Silver Dawn, which was an ultra-rare model. It was designed by Giles Taylor with the sole purpose of making its passengers look like rock stars.
Is the Rolls-Royce Dawn reliable?
Owning a Rolls-Royce is like owning a piece of history. Its timeless qualities, high-end materials, and handmade craftsmanship are all components that can't be beaten. Because of these features, the Rolls-Royce Dawn is made to last. Of course, it all depends on how it's maintained and taken care of throughout the years.
Is the Rolls-Royce Dawn all-wheel drive?
The Rolls-Royce Dawn is not all-wheel drive. It features a rear-wheel-drive with ABS and driveline traction, along with many other high-performance qualities. 

How does the Rolls-Royce Dawn compare to the Rolls-Royce Wraith?
The main difference between the Rolls-Royce Dawn and the Rolls-Royce Wraith is the body style that the two contain. While both look extremely similar on the outside and inside the cabin, the Rolls-Royce Wraith is a two-door coupe, and the Rolls-Royce Dawn is a two-door convertible. The Rolls-Royce Wraith also contains more starting horsepower but less starting pounds-feet of torque than the Rolls-Royce Dawn.
Test Drive the New Rolls-Royce Dawn in Person
Discover what makes Rolls-Royce a phenomenal automotive brand. Stop by and see us in person to meet, test drive, and fall in love with the 2020 Rolls-Royce Dawn soon.
Make an Inquiry